New Product - Copper Coated Kahn Forge Nails now in stock!
14th November 2018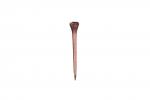 Copper Coated Slim Kahn Forge Nails - now in stock!
Sizes E3 Slim - E6 Slim

Copper coated E Head Slim Nails - 250CT
Produced by the excellent machines with high quality steel material.
Sharp points, drive very smooth and excellent clinching.
Plastic nail box is very durable and features a movable divider.

Call the office for more information!

01908 568878
Back